PHOTO CREDIT: Above photo by John Rickman Photography, San Jose, California.
Romany ("Gypsy") Discussion Bingo!
by Kristin Raeesi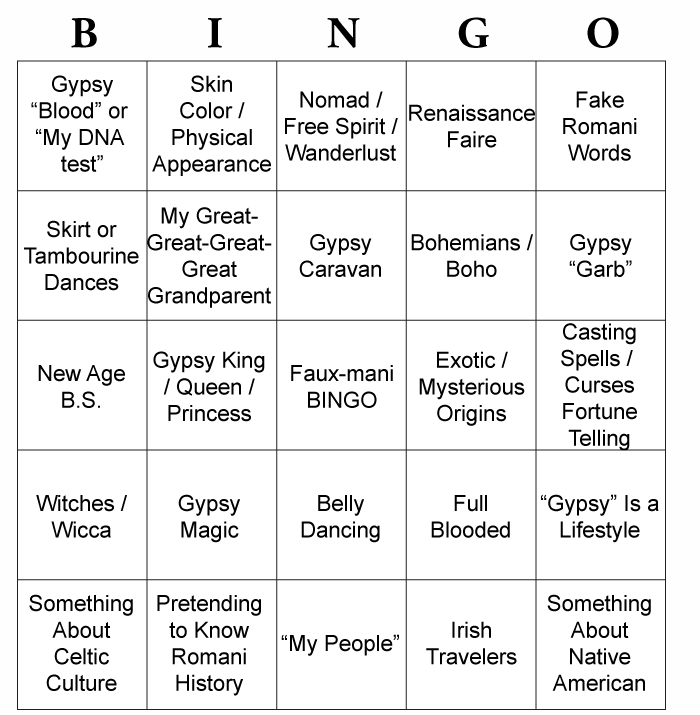 About the Author
Kristin Raeesi is a Romani / Métis researcher, activist and performance artist.  She holds a master's degree in Communication with an emphasis in critical and cultural theory and audio-digital storytelling.  Raeesi has been involved in activist work on behalf of the Romani community, serving on the Board of Directors for the California-based non-profit Voice of Roma and as an independent consultant, lecturer and administrator/creator of a free online GED program geared towards Romani adult learners. She has been a panelist at Romani Studies conferences at University of California Berkeley and New York University. In 2017 she presented at the at the Fifth Annual Roma Conference "Culture Beyond Borders: The Roma Contribution", at Harvard University to mark International Roma Day.  She has also given media interviews and written op-eds for national news outlets on the topic of Romani rights and representation.

Raeesi is also a performance artist who believes in using music and dance to bridge cultural divides and promote greater understanding and appreciation for a diversity of cultures through the arts.  She is especially interested in educating dancers about both Romani and Domari culture/s, music and dance. She is currently publishing an article series in The Belly Dance Chronicles magazine on the influence of Romani and Domari peoples on folkloric dance and music in the Middle East/North Africa.

If youu would like to contact Kristin, you may email her at kristin.raeesi@hotmail.com, or reach her via Facebook.
Copyright Notice
This entire web site is copyrighted. All rights reserved.
All articles, images, forms, scripts, directories, and product reviews on this web site are the property of Shira unless a different author/artist is identified. Material from this web site may not be posted on any other web site unless permission is first obtained from Shira.
Academic papers for school purposes may use information from this site only if the paper properly identifies the original article on Shira.net using appropriate citations (footnotes, end notes, etc.) and bibliography. Consult your instructor for instructions on how to do this.
If you wish to translate articles from Shira.net into a language other than English, Shira will be happy to post your translation here on Shira.net along with a note identifying you as the translator. This could include your photo and biography if you want it to. Contact Shira for more information. You may not post translations of Shira's articles on anybody else's web site, not even your own.
If you are a teacher, performer, or student of Middle Eastern dance, you may link directly to any page on this web site from either your blog or your own web site without first obtaining Shira's permission. Click here for link buttons and other information on how to link.